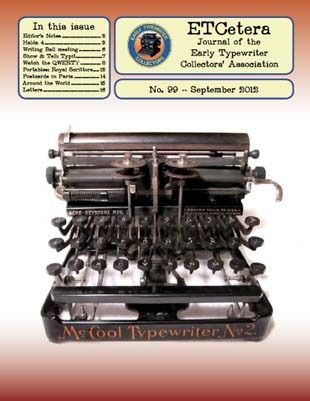 ETCetera
No. 99, September 2012
The Little-Known Halda 4 from Sweden
Gathered Around the Writing Ball
Show & Tell: Typit
Ephemera: Watch the QWERTY!
Portables, ETCetera by Robert Messenger: Royal Scrittore
Issue 99 of ETCetera, the journal of the Early Typewriter Collectors' Association, is now available. I have a copy to give away to the first nonsubscriber to request it at
polt@xavier.edu
. [Sorry folks, the copy was claimed 6 minutes after this was posted!] With this issue, Robert Messenger starts a column; here he reviews the latest Chinese portable, the Royal Scrittore.
And there's news about the magazine: after the extra-juicy issue 100, I will be stepping down as editor and ETCetera will move to the very capable hands of Alan Seaver, creator of the
Machines of Loving Grace
site. Alan is going to continue all the good features of ETCetera, and I'll be helping and contributing as needed.