This weekend I cleaned up the Olympia SG1 that I got at the
Ohio Valley Antique Mall
. It looks army green in this "before" shot, but I found that when I cleaned it with Scrubbing Bubbles, the body panels were actually gray. Gray + the dirt of life = green.
The typewriter had some minor mechanical issues, but mostly needed a thorough cleaning and lube. (As I've said before, I love the smell of
PB B'laster
in the morning.)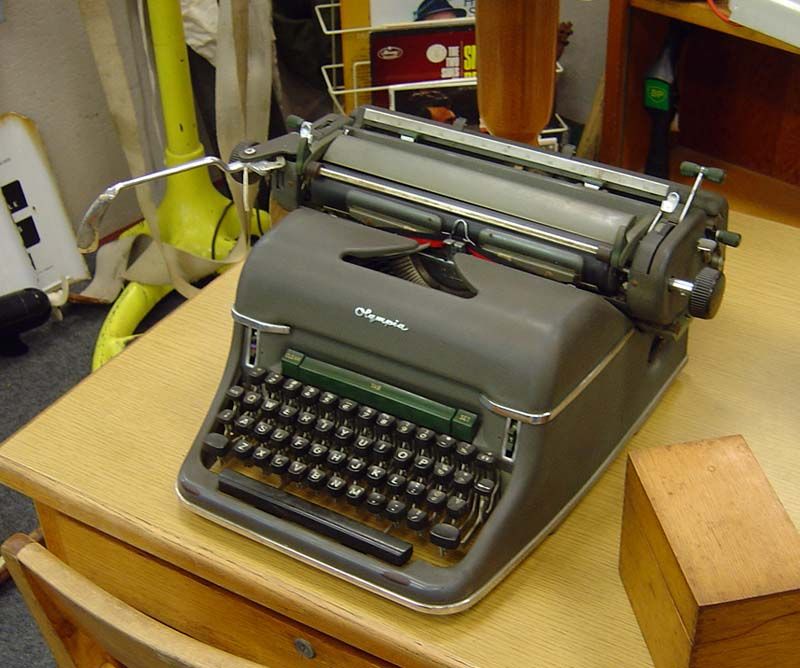 The gray paint looked dignified enough when it was thoroughly cleaned and polished, but the typewriter still seemed to lack a certain pizzazz; there were also two completely worn spots in front. Then I got the idea of treating the major panels to sparkly silver spray paint. To do this you have to remove them from the typewriter, remove or mask the trim and logos, and (since it's winter and too cold to spray paint outside) poison the entire atmosphere of your house and face the well-justified complaints of your wife. But the results ....
This typewriter will eventually be going on sale at
WordPlay
.
By the way, by reading black typing on a red portion of this typewriter's ribbon, I was able to get a partial name and address of a woman who either owned this typewriter or received a note written on it -- an invitation to "Jester's Christmas Partytown." A minute of experimental googling yielded her complete address, her birth year (1930), and a picture of her house -- with, presumably, her or her husband at the door!
The person is either looking at the weird Google Maps car, or waiting for the mailman who's on his way.
Creepy? I'd say so. Lessons to be learned: (a) Pay attention to your used typewriter ribbons. (b) The very concept of privacy is being destroyed in the information age. Typewriters, carefully used, provide one of the few remaining means of communication that can bypass the whole global system of data analysis: a letter carried by a mail carrier like this.